News
Make sure to order by December 15th to get your items by Christmas.  If you order by then we will get it shipped by Dec 18th via USPS priority.
Read more →
---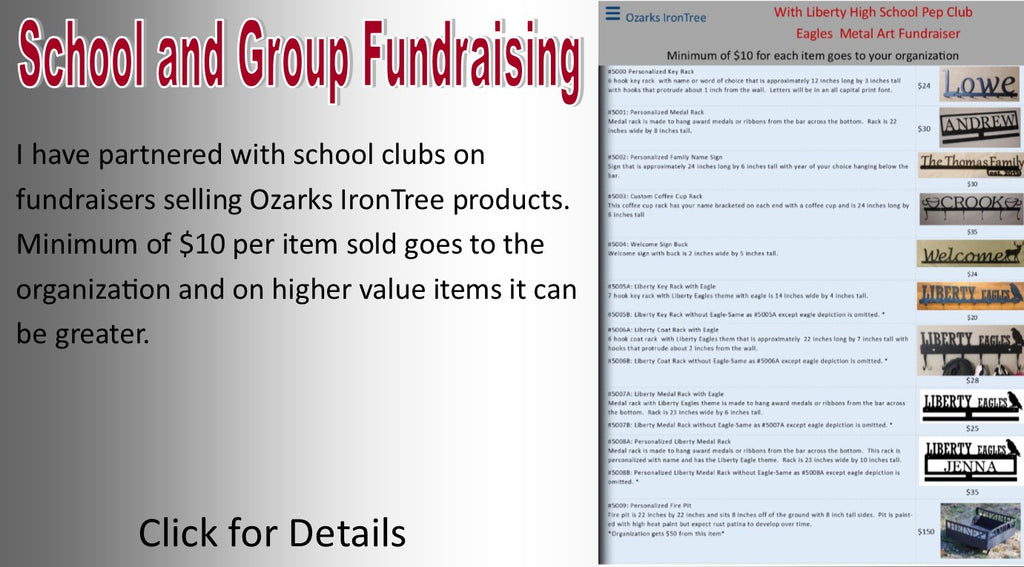 I have now partnered with a couple organizations to complete fundraisers, one was a pep club for a local middle school.  I made the items at my cost and the club members sole them with a $10 adder so that they captured $10 for each item sold.  It was nice to sell a unique item in a world of the same old fundraiser items.  The process is easy, we settle on what items to put in the brochure and I supplied the brochures, the students sold and collected the moneys.  Once the time period was over they forwarded me the order sheets, I invoiced the school for my costs letting them keep the proceeds and about 4 weeks later I delivered the items to the school for distribution.  
Read more →
---
This is the launch of our first non sponsored online store.  We have sold on Ebay for more than 10 years now and Etsy for 6 years, these are just a few of our items and we will be added more as we can, we have over 130 designs that can all be customized.  Want to get a custom metal sign, key rack, coffee cup rack, fire pit, or what ever you may need, just ask for a quote and we can get you a sketch and quote.  Want your own designed items for your retail store, we can work out wholesale pricing.  Want to order a number of items with your logo on it, we can work out discounted pricing for volume orders.
Read more →
---
---